АAndrii Shadrin (callsign "Krym") went a long way from an IT student in Feodosiya to a special unit member. Volunteer work in the occupied Crimea, Right Sektor, "Dnipro-1", 93rd Mechanized Brigade… During these years, he acquired several military professions and took part in the international army training and the hardest battles of the Russo-Ukrainian war. Today, we talked with Andrii about his story and experience with the UAF coin.
How did you become a soldier?
I was born in Crimea; my parents are ethnically Russians. When I was 14, I understood that I wanted to study at a Ukrainian university, to work in this country and to its benefit. Therefore I was Ukrainian. I wanted to become an NPP engineer.
In 2014 I suddenly woke up in the enemy territory. My friends and even family allied with that enemy. Ironically, the Russian books about military honor I used to read in my childhood helped me make a choice. I believed and still believe that each citizen is obliged to protect their homeland. I just had no other options.
What did you do in the occupied Crimea? You were an underage student.
I supported the Marines in Feodosiya. I sneaked some cigarettes, juice, and treats for them. I bought some, and some got from my friends from continental Ukraine. The Marines were amazed to learn that they still had allies there.
Once I was caught by a Russian patrol. They robbed me of all the treats and my personal belongings and beat me. I couldn't do anything, but I understood: I wouldn't give up until they vanished from my homeland.
When the enemy captured the Marines' base, I took what I had and bought a ticket to Kyiv. It was a leap of faith. I re-enrolled into college and tried to study. The news about the attack on Slovyansk was the last straw. I apologized to the college head and went to the recruitment office. They said I was too young, so I tried my luck in the National Guard. Same answer. Then the friends of my friends from the Right Sector said: "We don't care how old you are, we need people."
What happened next?
My first battle was in Ilovaisk. No comments. My unit returned without losses. Then it was "Dnipro-1" regiment: Pisky, Lebedynske, Avdiivka. Later the 93rd Brigade: "M" sector. And now I am where I am.
Have you ever used cryptocurrencies before?
Never. I didn't have the time and motivation to study such a modern trend. I signed up to Sl8 (a Ukrainian crypto social network) after a couple of Facebook bans. People liked some of my posts with crypto. The idea of direct monetization looks pretty right to me. It may draw the attention of many bloggers and experts. Unfortunately, it seems that now the world is dominated by the Meta brand.
Cryptocurrencies happened to be intuitive for me. I'll learn more "down-to-earth" uses for them soon and will try to spend them for my unit. If it's impossible yet, I'll pay an equal amount from my bank card and save the crypto for the more peaceful times.
What do you think about "volunteer" cryprocoins? People can buy them not to help but earn money later or access the unique content.
Any initiative that brings the destruction of the terrorist organization "russia" should go forth. Every instrument should be used, every button pressed, and the other Moskow, not the warship — must burn.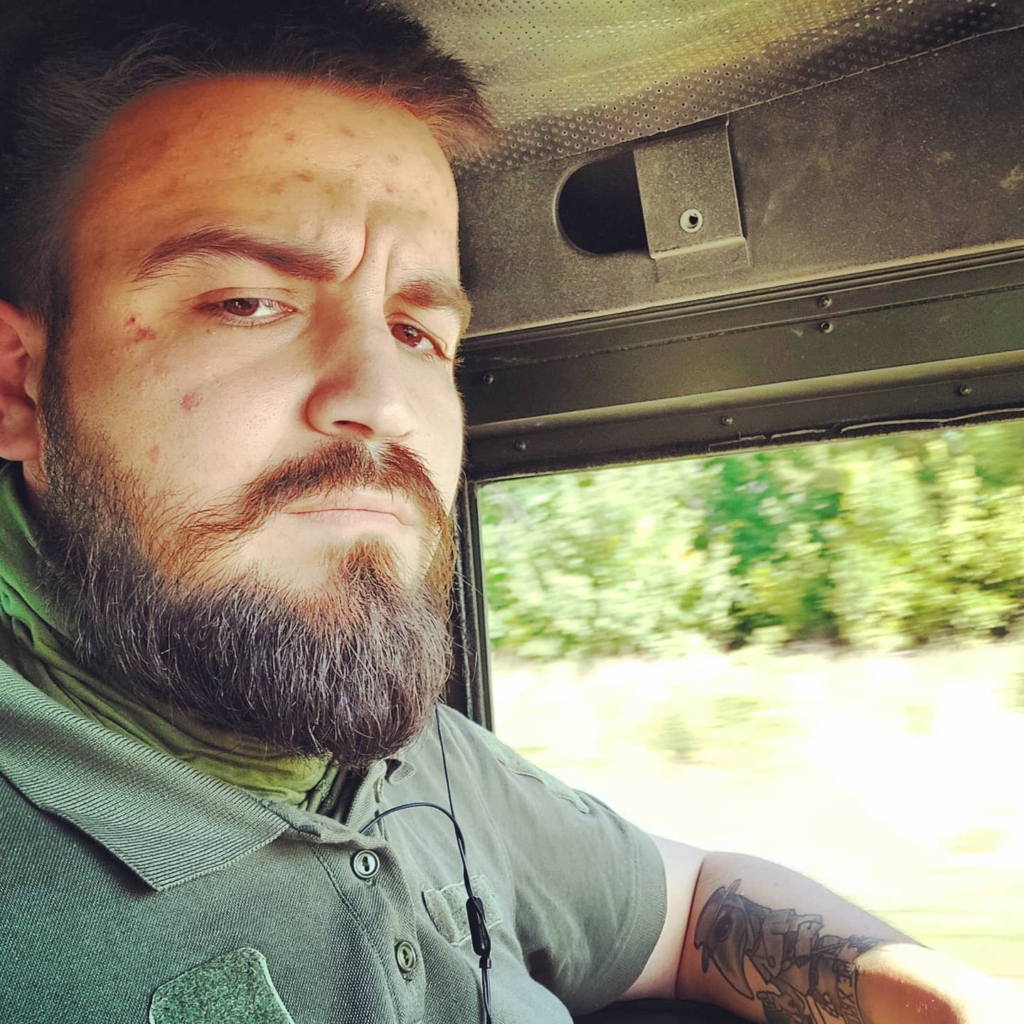 Last question: any advice for the volunteers? What is essential and what isn't needed anymore?
It's a tricky question now. The civilian or dual-use goods can't cover everything. Different units have different needs; the situation changes faster than the information can be processed.
The most important thing now is to provide medical kits, vehicles, and gear. More people enlist now, and the intensity of the battles means that both people and vehicles need a lot of repairs.